"Something Special"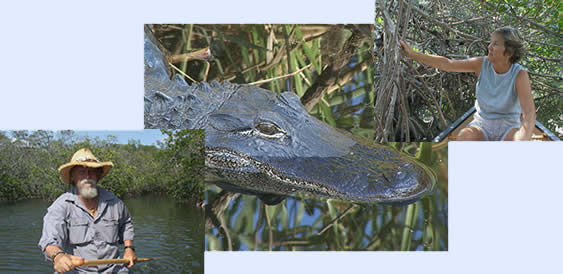 Deanna and I hit the road with boats in tow on our yearly safari to the southernmost part of the United States-the Florida Keys. It's really something special to be able to find and photograph
the animals of tropical areas. In an effort to get as many salt water species into my next
two books projects as we could see and encounter, we spent more time on the boats-aboard CRAYFISH and in the new canoe MOCCASIN than we have in past years. And since one of the books will be accompanied by a DVD, we increased our time videotaping as well. I won't
give away the subjects of my upcoming book and DVD projects, but I will say they are going to
be very special. We have brand new footage of many tropical plants and animals, especially
those that live and grow in the salt water section of the Everglades. And we have fantastic video taken deep in the interiors of the mangrove forest. Everywhere we went we saw trees and plants damaged by the hurricanes of 2005. But the vegetation is beginning to grow back. Every year
my tropical studies deepen as I learn more and more about the stunningly beautiful,
endlessly fascinating, and incredibly complex coastal southern environments. Deanna is taking more photographs. I'm videotaping more. And together we catalogue all that we see and
do together to create the books and videos we know you enjoy.